Marubeni invests in WePower's renewable energy procurement and trading platform –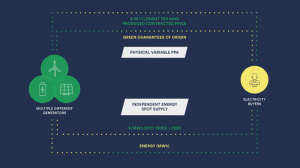 Marubeni Corporation (Marubeni) has announced that it has signed a convertible loan agreement (though it does not state the size of the loan) with WePower UAB (WePower), a Lithuanian start-up which is developing a renewable energy procurement and trading platform. To do this, WePower bases its platform on blockchain technology.
In recent years, start-ups – such as WePower or Power Ledger or Fuergy – have increased their industry presence by creating innovative services and disrupting traditional business models. Marubeni's intention is to facilitate partnerships with such start-ups in the hope of creating new value and  providing solutions to social issues.
WePower
The WePower objective is to enable commercial and industrial energy consumers wishing to procure renewable energy to execute power purchase agreements (PPAs) directly with renewable energy developers. Currently, there is a significant amount of time and cost (including legal fees) associated with executing PPAs, attributable to lengthy and complicated processes.
By using WePower's platform, commercial and industrial energy consumers will be able to:
simplify such processes
speed up the procurement of renewable energy
find and choose energy sources with competitive prices
ignore consumption volumes.
An additional attraction for commercial and industrial energy consumers is they will gain more flexibility by being able to sell excess energy to the secondary market in cases where consumption volume change.
For renewable energy developers, the platform will provide an alternative secure, stable revenue source to conventional renewable energy incentive schemes. This is significant because such incentive schemes, such as feed-in-tariffs, are coming to an end or are being phased out in many countries – primarily because renewable energy has become cost competitive without these 'subsidies'.
WePower platform
WePower has built a green energy marketplace based on smart contracts and energy tokenisation technology. This enables corporate electricity buyers to source renewable energy directly from those renewable energy generators. Currently, however, the platform is only made available to authorised business users.
The WePower platform is a one-stop-shop solution. It provides its customers (the corporate energy consumers) with tools to:
understand electricity consumption patterns
find a best fit renewable electricity producer
contract with that producer digitally
monitor generators as they start generating electricity.
WePower enables direct transactions with renewable electricity producers through PPAs. This enables corporate energy consumers to:
ensure a stable cost base
hedge electricity prices (as needed).
A standardised and accessible process means that even smaller companies, with smaller electricity needs, can aggregate demand with larger companies and/or between themselves. An automated process creates a broader, arguably, more inclusive market where risks and opportunities are shareable and, potentially, are better managed.
Enterprise Times: what does this mean
According to Ledger Insight: "Last year WePower tokenized energy in Estonia. It was seen as an ideal marketplace because all households have smart meters. The pilot was run in conjunction with Estonian power company Elering. Twenty-six thousand hours and 24TWh of energy production and consumption data was uploaded to the Ethereum blockchain producing 39 billion Smart Energy Tokens."
The linkage of blockchain between renewable energy generators (irrespective of whether this is solar, wind or another form) is ramping up. Blockchain offers transparency as well as immutability. Combine these with trading and smart contracts and blockchain adoption would seem likely to accelerate over the next few years, especially when renewable energy generators will be seeking new revenue sources.
Unsurprisingly, WePower is currently focusing its business development and commercialisation on activities in Australia, home to the development of many renewable energy projects. In the future WePower plans to expand in other countries with Marubeni, the huge Japanese conglomerate, contributing to the expansion and enhancement of renewable energy development by using its (Marubeni's) experience and global presence in the power industry.