WWJD? LMU and its evolving Catholic identity | News Analysis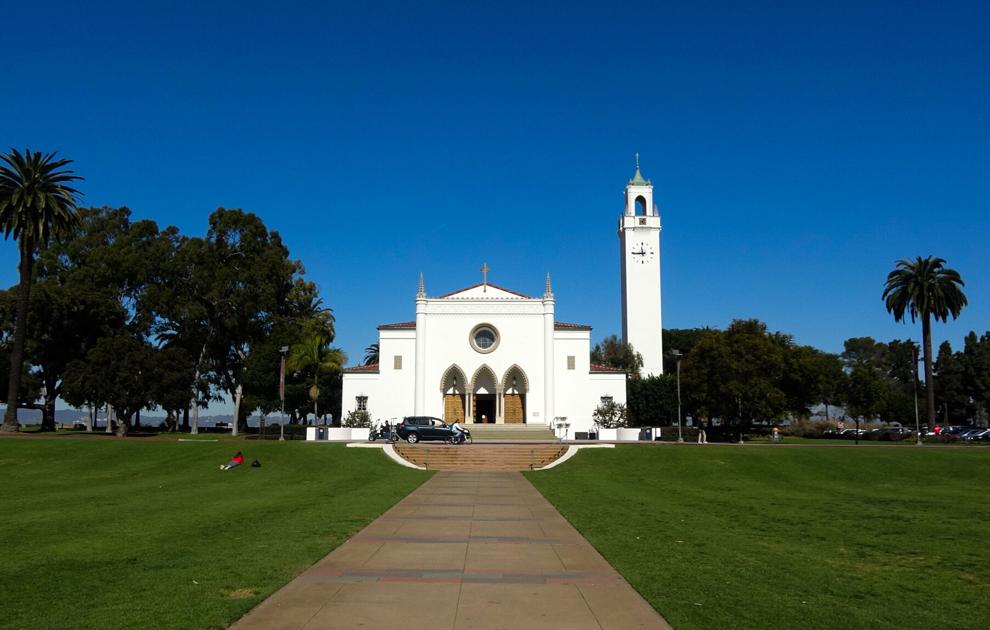 As a Catholic university, LMU has an obligation to uphold a certain standard that aligns with the teachings of the Church. However, that message often gets lost within the student body and faculty.
These students attend a religiously affiliated university at a time where religion and higher education are at a turning point. The Catholic Church is losing its authority among Americans, as national trends reflect a declining population of those who identify as religious and sexual abuse scandals have left a harsh mark on the Church's reputation.
As an institution founded upon change, LMU continues to adapt to the world around it. In a rapidly evolving society and a population of young people that change with it, the administration has worked to bring Catholic identity to its students in a way that serves them.
Dr. Aimee Ross-Kilroy, alumna and clinical assistant professor of English at LMU recalled what it was like to be a student within the context of her religious identity: "I've been a consistent Catholic since my senior year, so they did something, you know? The invitation was always there."
She recalled a stronger and more constant reminder of the school's Catholic foundations, with Jesuit priests teaching her courses and social justice initiatives based on Catholic teachings.
"There was a really strong pro-life presence. During events, like Life Week, there would be little crosses all over the lawn and things like that," said Ross-Kilroy, which starkly contrasts the current political climate of today's campus.
Dr. John Sebastian, the vice president for mission and ministry since 2017, has been a vital part of the more recent analysis of the needs of student body. "I think how we go about the work of promoting Catholic identity has shifted a little bit," said Sebastian. In 2017, the University engaged in a year-long reflection process called the Mission Priority Examen. The Association of Jesuit Colleges and Universities created the examen to give universities a forum for dialogue regarding mission growth. It identified areas where LMU could do better, like the formation of Catholic identity within the community and a more intentional incorporation of social justice.
However, promoting the University's religious identity has been a point of controversy in the wider Catholic community. Following several events, including a preferred pronouns controversy, a Planned Parenthood fundraiser dance, and the removal of St. Junipero Serra statue, outlets like the National Catholic Register have called the situation a crisis.
In response to criticism, LMU points to the values that it has instilled and the work that it has done, rather than strict religious teaching that more orthodox Catholics might be looking for. "Our focus on diversity, equity, inclusion and anti-racism is part of our Catholic identity. So is our commitment to understand all human beings as formed in the image and likeness of God and viewed with viable human dignity," said Sebastian.
"We are really here to shape leaders who are going to go out into the world and change the world for the better, or recognize the inherent injustices in the world and seek to correct those in some way," said Sebastian.
Even though LMU has found ways to be Catholic in a changing environment, the University still recognizes a need to repackage its messaging. Last year, the University began the process of crafting a new plan that will last until 2026 that has drawn from the examen done in 2017 and the more recent needs of the campus, like a revamping of anti-racism policies.
"Now we are at the part where everybody else throughout the University is redoing their local unit plans to match up with that," said Sebastian, indicating that the University is in its own process of change and actively working to meet student needs.
The University has also recognized that all their students are not Catholics. Taking an inviting and welcoming approach has created an environment where people of all faiths can come together.
"Our mission or Catholic identity is that everyone at the University has an obligation to that identity. Nobody gets a free pass. It's not just for campus ministry or theology. But at the same point in time, our identity and our mission statement are only as strong as what everyone brings to that," said Sebastian.
"This is different than a parish," he reminded the community. "I think of it more in parallel with a Catholic hospital, for instance … There's a set of principles that guide the work, but all are welcome."
And as they are welcome, those of different faith traditions come to LMU and bring their unique perspectives.
"We have a unique and really important opportunity, and I think an obligation and maybe even a privilege to spend time modeling for the rest of the world what complicated conversations look like," said Sebastian.
In an incident last semester, the University openly came out against a fundraiser done by the Women in Politics club in support of Planned Parenthood. An official released statement reads, "The event being held this evening by Women in Politics, an independent student organization, is neither sponsored … nor does it fundraise for, Planned Parenthood … The University remains firmly committed to its Catholic, Jesuit, and Marymount values."
The event and backlash caused rifts in the community and called into question the values of the University.
"I'm disappointed to say that I think a lot of what went on at LMU was not very different from what went on in the outside world," said Sebastian reflecting on the online back and forth that went on between Women in Politics and LMU College Republicans.
He sees the disconnect and the time that students and faculty lost from campus as a reason that students, faculty and administration are having a hard time understanding one another and what makes LMU a Catholic school. "The students don't know each other as well, the students don't know the staff, the staff doesn't know the students, and the faculty don't really know each other in the same way … I think it was easy for the last couple of years for people to get kind of situated in their own sort of individual worldview and not have a sense of what brings us all together as part of this Lion community."
Ross-Kilroy noted a similar feeling of disconnect. With the passage of time and the distance that comes with being a faculty member rather than a student, she finds herself having to seek out some Catholic connection. "I don't know that it's the fault of the University, right? It might just be a byproduct of being a professor. It's hard to say," said Ross-Kilroy.
The University has grown in size and diversity over the years, causing a different flow of people, mindsets and values to change the University in different ways. "As we've gotten bigger, it seems like some of that really visible Catholic viewpoint on the part of students and faculty isn't seen as much," said Ross-Kilroy, echoing the ideas of Sebastian, who still hopes to instill Catholic values into those students who don't necessarily identify with the religion.
Catholic universities all over the world are struggling to find their place in a changing world, but Sebastian does not want LMU to shy away from this challenge. "For us, it goes back to Jesus. Jesus didn't hang out with powerful people. He spent his time with those who are living on the margins. He spent time trying to fix the systems that led to oppression … and that has got to be the model for how we do things."
In the next installment of this three-part series, the Loyolan will investigate how the student body of LMU perceives their Catholic identity.