WTI Daily Rewind 06Sep18: Sellside Continuation Despite Larger Than Expected Inventory Draw
In this article, we examine the significant daily order flow and market structure driving WTI price action.
06 September 2018:
As noted in Wednesday's WTI Daily, the market had traded down into prior near-term key-demand cluster (69.30s-68.20s) as a structural unsecured low had developed in Wed's auction. An unsecured low is evident in the market profile and provides indication and warning that the sell-side activity is not yet complete. This structural phenomenon was key in understanding the potential for further sell-side continuation in Thursday's auction.
A minor probe below Wed's unsecured low developed early in Thu's Globex auction, achieving a stopping point, 68.41s, during Asian hours. Buying interest in small size emerged, developing balance, 68.41s- 68.95s, through the London auction into the NY open. A minor probe higher developed early in the NY auction, achieving the stopping point high, 69.02s. Selling interest emerged there, forming a sell excess, 69.02s-68.90s, providing structural indication and warning AHEAD of the EIA data release that buy-side activity had been shut off. Rotation back through the balance developed into the EIA release.
Buyers trapped, 68.50s, following the EIA release (a larger draw than expected -4.3mil v -1.2mil exp). A sell-side breakdown then ensued as price discovery lower developed, pausing at 67.53s, near Sharedata's average daily range low target. Sellers trapped there initially amidst buying interest before new initiative selling entered, 67.64s, resuming the sell-side price discovery. The market auctioned lower to 67s, near Sharedata's 1st standard deviation low target for Thursday where sellers again trapped amidst responsive buying interest, shifting the order flow sequence and driving price higher. This order flow event created a buy excess, evident in the profile, signaling a halting of the sell-side auction. Price discovery higher developed toward 68.01s ahead of the NY close, settling at 67.77s.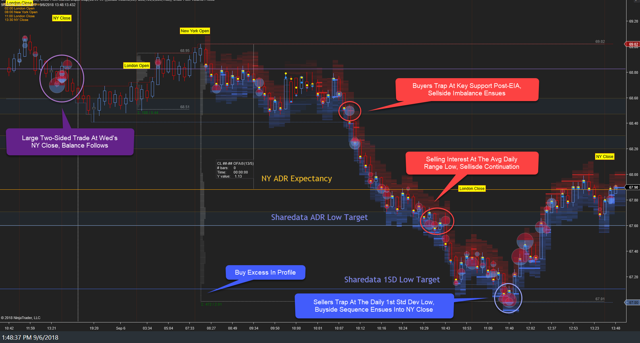 NinjaTrader
Looking ahead, the market's near-term sell-side phase was halted late in Thursday's auction as a structural buy excess emerged at the low with sellers in large size trapping. The market did transition and sell through last week's micro-demand, 69.31s-68.20s, in today's auction. The response to this area on any rally will be key. Failure of the buy-side to auction back above this cluster will imply potential for further price discovery lower. Alternatively, sell-side failure at this cluster will imply a higher low has been developed upon this pullback (64.42s/67s) and likely result in price discovery higher toward the key supply areas overhead.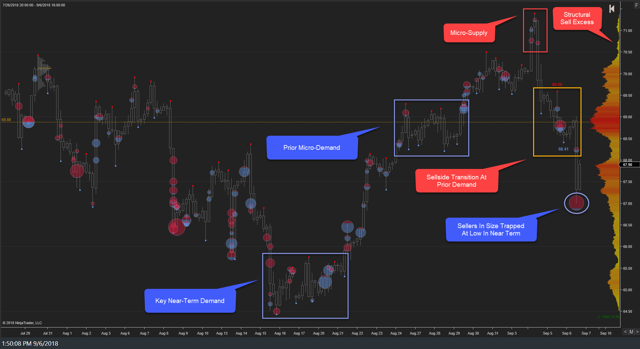 NinjaTrader
As noted in last week's WTI Weekly, seasonal price weakness in confluence with continued extreme bullish posture in the Managed Money suggests headwinds for WTI trading beyond the key supply cluster overhead (72s-75s). Near-term, the market structure (buy excess at 67s) and order flow (trapping of sellers in large size) provided the empirical evidence indicating a halting of the near-term sell-side phase. Focus remains on the buy-side response as the market is poised to retest prior demand upon the relief rally.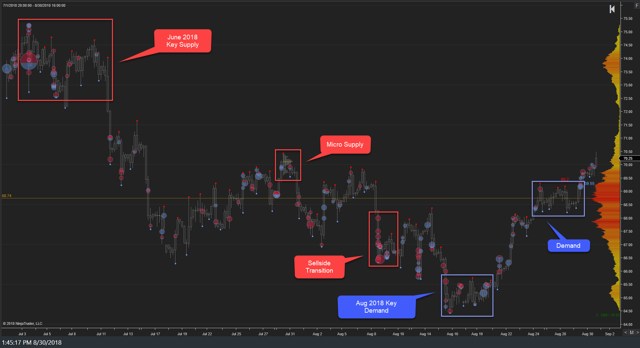 NinjaTrader
Disclosure: I/we have no positions in any stocks mentioned, and no plans to initiate any positions within the next 72 hours.
I wrote this article myself, and it expresses my own opinions. I am not receiving compensation for it (other than from Seeking Alpha). I have no business relationship with any company whose stock is mentioned in this article.