Happy Holidays from Rockhampton Regional Council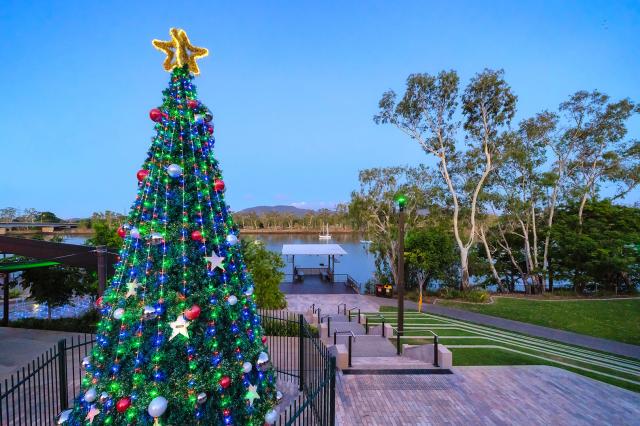 The festive season is finally here, and everyone at Rockhampton Regional Council would like to wish the community a very Merry Christmas and a Happy New Year!
While the majority of our offices and services will be closed from 3pm on Christmas Eve until Tuesday 4 January, some facilities will still be open throughout the holiday period.
The Zoo will be open every day apart from Christmas itself, and our great team in waste and recycling will still be collecting from the kerbside as normal.
Mayor Tony Williams said this has been a whirlwind of a year, and now that the tinsel has gone up and the presents are nearly all wrapped it's great to take a moment to reflect.
"Early this year I was honoured to be elected as Mayor after having served as a Councillor for more than 16 years," Mayor Williams said.
"It's hard to believe now that was less than 11 months ago. It has definitely been a challenging year, but so many fantastic things have also happened in that time.
"Despite the ongoing uncertainty around Covid, we were lucky enough to come together as a community for some incredible events, from Rockynats and Riverfestival to Beef Week and the Rocky Show. We saw crowds return to the Rockhampton Heritage Village, NRL Matches hosted at Browne Park and local stars shine in the outstanding production of Mamma Mia.
"It was also another great year for awards, with our region bringing home two national awards at the 2021 Australian Sustainable Communities – Tidy Towns Awards. More recently, our region featured heavily at the Queensland Tourism Awards, with Rare Spares Rockynats, Beef Australia and Empire Apartment Hotel among the winners and finalists announced at the prestigious event.
"And in the last couple of weeks, we had a wonderful new arrival at the Zoo with our second baby chimp to be born this year, just in time for the school holidays.
"At the Airport we completed some major upgrades and welcomed new routes, as well as the fantastic announcement that Alliance will be bringing their Maintenance and Repair Facility home from overseas to right here in Rockhampton.
"And we saw the finishing touches go on the Rockhampton Museum of Art building ahead of the opening early next year.
"Many of the projects completed this year were with the support of the State and Federal Governments – including the Airport upgrades and the Rockhampton Museum of Art – proving time and again that we are strongest when we work together.
"When the 2020/21 financial year wrapped up in June we had delivered $115.6 million worth of capital works projects, and this financial year we're investing heavily in our region's future with catalyst water and sewerage infrastructure.
"Our annual goods and services spend analysis showed that a massive 80% of expenditure was local, with $116.4 million flowing directly to providers in our Region.
"One of the most notable challenges we've been facing this year is the lack of water security for Mount Morgan. In April the No 7 Dam ran dry and we've been trucking water in to the township ever since, at a cost of nearly $11,000 a day. Unfortunately, this is a challenge that's going to carry over into the new financial year, but we are closer than ever to a long-term solution and we're seeking support from other levels of government.
"And, of course, the COVID story isn't over yet, and there will no doubt continue to be more hurdles as we find our way with this new normal.
"In the New Year, however, we will face any challenges like we always do – as a strong community working together.
"On behalf of all Councillors and staff, I would like to wish everyone a happy, healthy and safe Christmas and New Year."
The full details of Council's opening times over the holidays are below. If you need any assistance from Council over this period please call our 24 hour number on 4932 9000.
Council will resume normal services from Tuesday 4 January 2022.