Copper Inventory in Major Chinese Markets Fell 5,000 mt over Weekend_SMM
SHANGHAI, Apr 11 (SMM) – As of Monday April 11, copper inventory across major Chinese markets fell 5,000 mt from last Friday to 135,300 mt. The inventory dropped on Mondays for six consecutive weeks. Recently, due to the pandemic-related traffic control in various regions of China, the arrival of each warehouse was still relatively small. According to the latest news, in Shanghai, goods transported by railway or by truck cannot be loaded and unloaded before April 15. It is expected that after April 15, the goods by railway can be unloaded. In Jiangsu, railway transportation is relatively normal, but the efficiency of truck transportation is very low. In Guangdong, the goods by railway and truck are normal, and it takes a nucleic acid test result within 48 hours, the green code and the trip code to unload and pick up goods. Therefore, copper processing enterprises in east China buy goods from the south. In north China, shipments decreased due to COVID-19 outbreaks in Liaoning and Chifeng.  In detail, the inventories in Shanghai and Jiangsu remained unchanged, the inventories in Guangdong decreased 4,300 mt to 40,800 mt, the inventories in Chongqing fell 400 mt to 1,800 mt, the inventories in Chengdu dropped 100 mt to 1,000 mt, and the inventories in Tianjin dipped 200 mt to 1,800 mt. Looking forward, it is expected that the arrivals in various places will unlikely to return to normal, and the weekly inventory will continue to decline.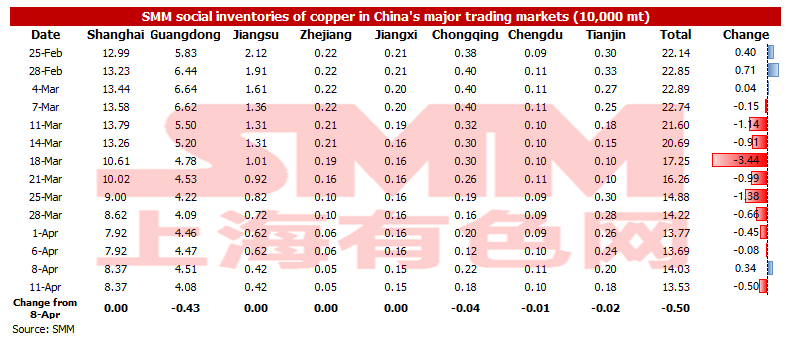 Disclaimer:
The above representation and data is based on market information SMM believes to be reliable at the time of acquiring as well as the comprehensive assessment by SMM research team, and any and all information provided in this article is for reference only. This article does not constitute a direct recommendation for investment or any decisions in any form and clients shall act on their own discreet and any decisions made by clients are not within the responsibility of SMM.