Below-MSP Procurement: Maharashtra traders withdraw strike after govt assurance
Written by Partha Sarathi Biswas | Pune |
Published: September 11, 2018 7:49:25 am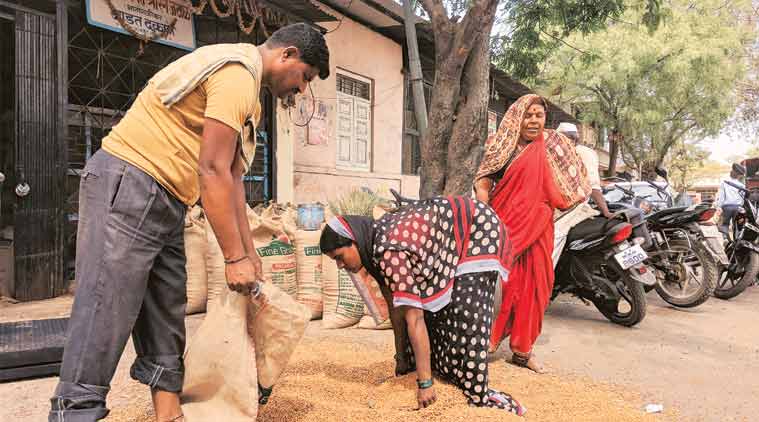 Trade in almost all the wholesale markets in Maharashtra were suspended for more than 10 days. (Express photo by Partha Sarathi Biswas)
Traders in Maharashtra have withdrawn their protest after a meeting with Minister for Cooperation Subhash Deshmukh in Mumbai on Monday. Deshmukh reportedly assured the traders that no action would be taken against them if non-Fair and Average Quality (FAQ) commodities were procured below the government-declared Minimum Support Price (MSP).
Walchand Sancheti, chairman of the Maharashtra Federation of Traders' Association, said they had decided to withdraw their strike after the minister's assurance. "Prices are determined by the supply and demand situation; clamping down on prices artificially will not work," he said.
After the meeting, Sancheti said it has been agreed that a committee will certify the sale of commodities which do not adhere to FAQ standards. "Once the commodities are weighed, no complaints will be entertained," he said.
For the last few days, wholesale markets in Maharashtra have been through a major upheaval with traders refusing to participate in auctions. This was to protest against the state Cabinet's decision to penalise traders for below-MSP procurement with a year's jail term as well as a fine of Rs 50,000. Trade in almost all the wholesale markets in Maharashtra were suspended for more than 10 days.
At the meeting chaired by Deshmukh, more than 300 traders from various parts of the state participated.
"The state Cabinet would enact a legislation to cover commodities without MSP. Such commodities would have a Statutory Minimum Price (SMP), i.e. the minimum price to be paid by traders for them," he said.
The minister said it would be done only through a legislation and after proper consultation. "The strike by traders was due to some gap in communication," he said.
Deshmukh said the Agricultural Produce Market Committee (Development and Regulation) Act, 1963, already has provisions for suspension of licences of traders who buy produce below MSP. "The market committees promote the pledge loan scheme, which would allow farmers to keep their produce in the godowns owned by the market committees at just 6 per cent interest," he said. Farmers can avail of the scheme when prices are low to prevent distress selling, he added. "Market committees have been asked to ensure their godowns are empty to implement the scheme."
Start your day the best way with the Express Morning Briefing
For all the latest Mumbai News, download Indian Express App